Dynamics of Hydrosphere, Atmosphere and Earth's Surface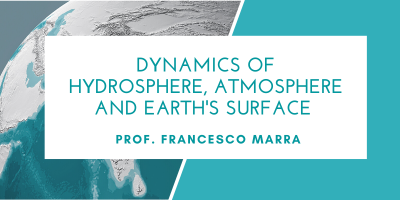 Period: Second semester
Course unit contents: 
DYNAMICS OF THE ATMOSPHERE
Atmospheric composition. Application of the basic equations of fluid dynamics on atmospheric flow. Relation between the state variables. Properties of the dry and humid air. Circulation of the atmosphere. Cloud formation processes and the properties of clouds. Measurement of the atmospheric variables. Influence of the atmosphere on the Earth's temperature. Greenhouse effect.

DYNAMICS OF THE HYDROSPHERE
The hydrological cycle. Physical properties of the ocean and water masses. Wind and buoyancy driven ocean circulation. Tides and waves. Evaporation and precipitation processes. Rivers and lakes. The hydrological balance. Formation, movement, and physical characteristics of the glaciers. Glacier budget and response to climate change. Causes of glaciations, and trends in modern glacier cover. Climate response of seasonal snow cover. Permafrost distribution and climatic response. Cryosphere-related water resources. Cryosphere-driven hydrological response. Feedbacks between water masses, cryosphere components and the atmosphere.

DYNAMICS OF THE EARTH'S SURFACE
Basic concepts in geomorphology. Landforms and geomorphological processes: structural; gravitational; fluvial; karst; glacial; periglacial; aeolian; coastal.
Laboratory: use of topographic maps and Google Earth for the analysis of landforms and processes.
Planned learning activities and teaching methods: Frontal lectures with numerical exercises; laboratory using topographic maps, geomorphological maps and Google Earth.
Last modified: Thursday, 18 May 2023, 3:55 PM